So you have taken your pregnancy test at home or work and now you have to wait for the result… are you or aren't you? What's going on? The 1-5 minute wait (depending on the test) feels like forever, and yes it probably is if you just stare at the results window on the test. Here are 27 ways you can spend those minutes while you wait for the pregnancy test results that will definitely make the time go faster – I promise!!
Read a few pages of a book
Personally, I'd recommend a trashy novel that you like, or a magazine, basically something that doesn't require too much brain power as focusing might be hard….
Tell someone how much you appreciate them
It's hard to think about others when you are trying so much for something you want, so this will get you totally out of your head. Maybe send a text to your Mum, or your bestie, or your partner, there are lots of people who would love to hear a thank you or a you were great etc
If you are a journaler get scribbling
5 minutes is just the perfect amount of time for an entry, try writing down what you are feeling right now… nervous, excitement, dread, hopeful…
Breathe deeply and slowly for five whole minutes
This is a hard one, we breathe all the time day in and day out, yet when asked to breathe deeply and slowly suddenly it is hard. Try to relax and calm your thoughts and just breathe in and out slowly and deeply for five minutes.
Do 15 pushups or 30 lunges. Feel the burn!
Want to work on your six-pack or tone those legs? Take the time to do some exercises that get your muscles working out.
Update the to-do list. Don't have one? Well, take five minutes and make one
I love a to-do list, but I know that it isn't everyone's cup of tea. Grab yourself a nice piece of paper and a pen and write down everything that needs to be done by the weekend, or the end of the day, or before holiday…
Put on your favourite tune and dance
Personally, I love a bit of 80s madness like Cindy Lauper, but whatever gets your toes tapping is the tune to choose
Clean the bathroom sink
Another unexciting job, but it does mean you can keep half an eye on your test at the same time.
Make your bed
There is nothing nicer than getting into a made bed, take the time to plump your pillows and fluff the doona (duvet) and make your bed look inviting
Pay someone a compliment
Everyone loves a compliment, it might be that you loved their new hairdo on socials, or a dress they wore.
Drink a glass of water
Water is so good for you, and being hydrated is important, so warm or cold knock back a glass or two and yes, you can look at the test while drinking
Do a quick guided meditation
There is a good one online at Headspace or you can download the Headspace app
Stretch
There is nothing better than a good stretch, get down on the ground stretch your arms up and your toes down
Clean out the junk drawer (and don't be afraid to throw stuff away)
The stuff in the junk drawer is a task that will give you a sense of achievement, that you have done something productive and it will definitely distract you!
Enjoy a drink
I was going to say coffee or tea, but you might want something stronger depending on the result you are hoping for.
Paint your nails
Fingers or toes, choose something bright and cheery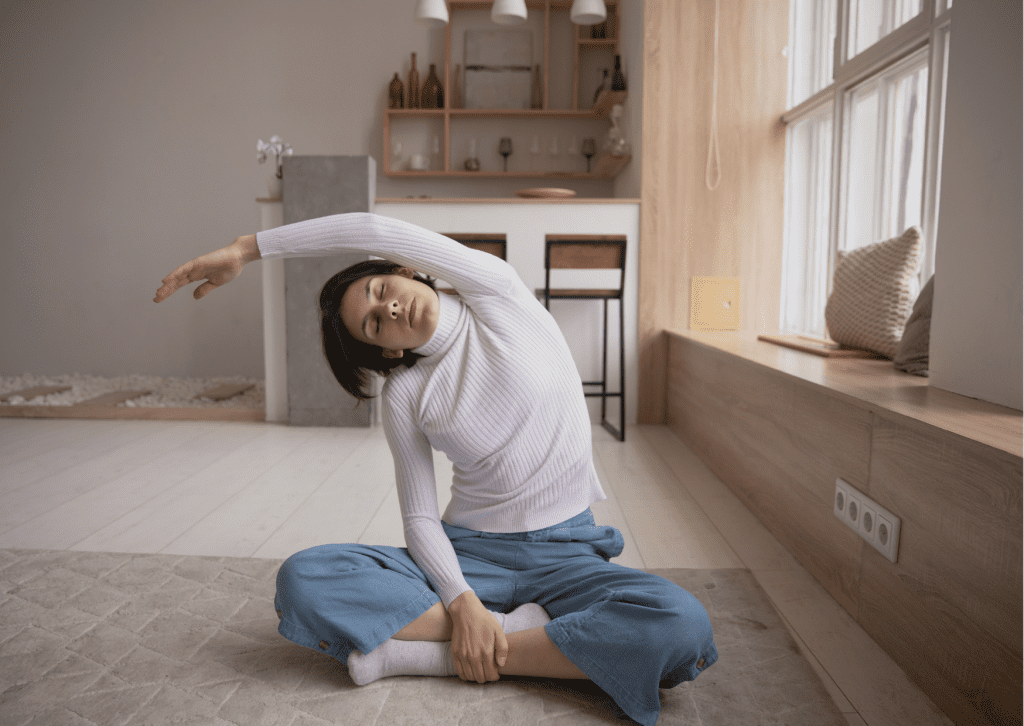 Water your plants
If you are anything like me you frequently forget to water your plants and always seem to remember at odd times like when you are dozing off to sleep. Take this time as an opportunity to give them some water and a dust off
Take a quick shower
I don't know about you, but there is nothing better than a shower to make you feel like a new woman…
Do a jigsaw puzzle
When I was waiting for my pregnancy test results I was in hotel quarantine so I had a jigsaw puzzle on the go. I stuck in pieces while the time VERY slowly ticked by until my pregnancy test results appeared
Listen to a motivation song
This could be a Taylor Swift song or something older, whatever lifts you up and makes you feel amazing!
Go for a walk
Yes you do have time, a quick power walk around the block will do marvels for you. It doesn't matter if you are 30 seconds or a minute late seeing the result they will still be there.
Text someone just to say you love or miss them
It is ALWAYS lovely to get a text from someone telling you they love you or miss you, even if you think it may be unlikely…. 🙂
Do a quick task (Or even a couple)
Are there clothes lying around your bedroom, or have you got washing to put away? There are probably a couple of tiny tasks that bug you and you put off but could be done in 2 minutes – do it!!
Do your grocery list for the week
You might be trying to be healthy with your food, or using up bits and bobs in the fridge, why not plan your meals for the next few days and see what you need to buy to make them. Personally I am not great at this, but I know some people love it.
Work out your clothes for the day
You might be taking your test first thing, you have woken up done a wee and are now waiting in your PJs, how about working out what you are going to wear today, why not wear your favourite undies that you usually save for best – you deserve it.
Unload the dishwasher
Yep, a boring task that no one ever wants to do, but you do feel a sense of accomplishment afterwards.
Clean out your handbag
It's probably one of those jobs you think I need to do that and yet forget to do, take this chance to take everything out, remove the bits of rubbish at the bottom, shake it out and put everything back in – if of course you still need everything.
The bonus of doing something while you wait for your pregnancy test results is that if you don't get the result you want at least something positive has come out of the experience, whether it is a made bed, a clean dishwasher or a work out! If you have taken a number of tests let me know in the comments what your go to thing is to do to make the time pass….